When it comes to pavings, the concrete roads vs asphalt roads debate is going to continue with different individuals providing different opinions. As a matter of fact, both these products are used for parking lots, driveways as well as roads at present. However, they do not provide the same advantages.
Keep in mind that if you need asphalt repair in Orange County, give us a call.  Today, we will throw some light on the advantages of asphalt over concrete:
#1. Maintenance
Every single product requires some sort of maintenance on a regular basis which will help it to appear great and also perform efficiently. It is imperative to seal asphalt every couple of years mainly because of its discoloration as well as weakening structure.
Moreover, asphalt has to be recoated completely every 5 to 10 years. All these will add up to the expenses in the long run, and in case you'd like to perform it on your own you have to find out adequate time for doing so. On the other hand, concrete simply entails a proper cleaning which will depend on where you reside and also the type of concrete that is being used. In general, concrete has to be sealed every five years or so, if at all required. Contact our company today for a parking lot or driveway maintenance.
#2. Resilience
Talking on concrete roads vs asphalt roads, It is always advantageous to work with a resilient product. Being stronger as compared to asphalt, concrete is able to cope with heavier loads. However, a thicker profile of asphalt will be required in case it needs to handle lots of heavy traffic. For instance, a 5-inch thick concrete pavement is endowed with the identical load carrying capacity as an 8 inch-thick asphalt pavement.
Moreover, concrete is going to last for approximately 30 to 40 years as compared to asphalt which has a lifespan of around 20 years. Consequently, in case you're looking for durability, then concrete will be the better choice.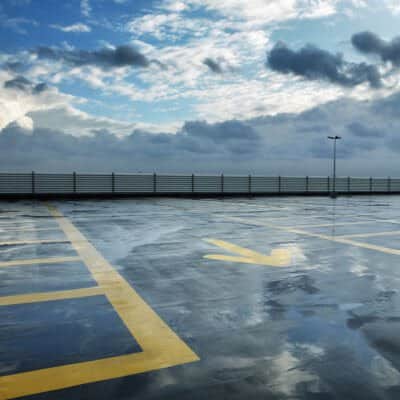 #3. Aesthetics
There is no doubt about the fact that concrete will prove to be superior to asphalt when it comes to selecting an aesthetically pleasing driveway. Concrete will offer a clean as well as crisp look which will help to complement any residence. Moreover, you have the option of employing a concrete stamp and/or a concrete stain for creating a particular look that will help to make it look more attractive. On the contrary, you can't do much with asphalt which is simply a blacktop.
#4. Climate
Asphalt is prone to getting soft in case it is exposed to hot weather, and there is also the risk of cracking as well. However, concrete is much more resistant to high temperatures and is, therefore, a much better choice in those areas where the sultry weather is common.
Asphalt, moreover, is known to absorb heat much faster than concrete, and it likewise becomes extremely hot during the summer months. Because of this, children will find it extremely difficult to play on an asphalt surface in summer. On top of this, it might even result in a much higher interior temperature in those vehicles that are parked on an asphalt surface.
You are not clear with concrete roads vs asphalt roads. Give us a call if you want asphalt pavement and repair service.