Interested in saving money while making your commercial property look great at the same time with diy parking lot striping? If so, then repaving and striping your parking lot proves both fast and easy while providing your property with a fresh new look and feel. Confused on how to stripe a parking lot by hand? For DIY parking lot striping, All you need to start is a bit of paint, and a paint striping machine. One can start by either contacting our staff of driveway resurfacing contractors and striping experts or consider.
We've already helped hundreds of previous parking lot owners who were in your shoes. Now, they can look out their windows and see a job well done. We have high-caliber traffic paint that can be applied using simple-to-use stencils to manage traffic in your business parking lot easily and effectively.
Research things before you buy them! We have industry experience we'd like to share with you so you can pick out the best possible paint. Some of the cheaper paints the market has to offer will fade quickly and then easily wear off. We only supply paints that last a long time. You can get the most bang for your buck with us by finding great values at the lowest price points.
When your pavement has clearly marked parking lot lines, then the cars coming and going automatically know how to move through your parking lot efficiently. That means they spend less time in traffic and more time inside your place of business. When you clearly show traffic directions, which spaces are reserved for handicapped parties, and where no parking whatsoever is authorized, your customers can get through your lot in comfort and safety.
You can accomplish this in two ways:
Painting parking lot lines by hand is not a big deal ! First, you can draw chalk lines and then paint them in by hand using a 4-inch paint roller. If you choose to do this, at least make sure you use a high-caliber traffic paint for enduring results. Still don't have any idea on how to stripe a parking lot by hand? see below-
There is a technique that is much neater (and nicer to your back) is using a parking lot striper to paint your parking lot lines on any concrete or asphalt surface. Depending on the level of striping you intend on doing, they're available in various sizes. Typically, you'll need to have a chalk line, high-caliber traffic paint, tool box, pylons, caution tape, measuring tape, and either your 4-inch roller or piece of line-striping equipment. Depending on how many parking lot lines you're going to be doing, you can choose what type of painting equipment proves most productive in your circumstances. It's also crucial that you have the appropriate parking lot stencils in order to mark off any special areas with a professional finish.
The following are four things you need to consider for DIY parking lot striping:
1) Measurements Are Crucial:
It's critical that you know just how much paint you are going to need to get for your job site. You can contact us if you need help figuring this out.
2) Keep Things Clean And Tidy:
Preparation is essential here before diy parking lot striping. You need to be sure that you have cleaned your asphalt surface thoroughly of all debris and dirt. Many property managers or owners invest into having a gas-powered blower clean off the asphalt surface. That saves a lot of energy and time as compared to having someone sweep an entire lot using their own hands. A gas blower can be applied in many different ways, including cleaning asphalt, drying out puddles and wet areas, cleaning up leaves, and others. Consider one a sound business investment.
3) Make Your Base Solid:
Once the asphalt surface gets clean, you need to be sure that all of your various parking lot cracks have also been cleaned and filled properly. You need to be sure that no water will get into the cracks, since this can make asphalt decay quite rapidly.
4) Think About Sealcoating The Lot:
Once you fill your parking lot cracks, think about having them sealcoated. Sealcoating your entire parking lot protects it from mother nature while also giving it the nice look and clean slate of a black finish. This of course allows for painted parking lines to stick out in a colorful way, which is what you want.
Are you clear with, how to stripe a parking lot by hand? If yes! then you are all set to stripe your parking lot by hands. Once you go through all of the asphalt maintenance steps listed above, you're going to be ready to actually paint your needed parking lots lines by following simple guide to diy parking lot striping, as well as add the parking signs. Our experts offer free consultations regarding line marking services so you can have guidance through the entire process of appropriately measuring the spaces between your lines, proper line lengths, and how many total disabled parking sign you'll need on a lot of certain volume.
We can help you make a great first impression to your clients, and you know that first impression is always the most crucial one.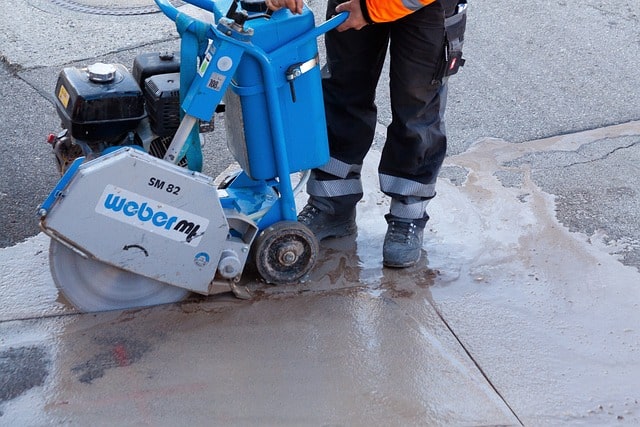 Paint striping a parking lot can prove easy or hard. Painting parking lot lines by hand is the hard way, and it's even back-breaking, unless you just have a few lines you need to paint. Given that you're doing business in a modern economy, doesn't it make sense to use modern technology and equipment? It makes things easier on you, mentally and physically, but you also get results that are far more professional in appearance.
In this case, the asphalt striping machine is the modern equipment you need. Such machines do vary in price and capabilities, but all of them are easy enough to use that even novices can learn them.
Some of them are designed and intended for only small businesses to use. Some larger homes that are more like estates might also use them for their above-average driveways and parking areas. On the other hand, there are others that property managers and professionals use which cost several thousand dollars. The differences in what each machine can provide you is broken down across terms of speed, quantity, and quality.
Whether big or small, each machine works in similar ways. The first is that they all have some method for storing paint when you are working. Smaller systems often are equipped to hold one or two cans of aerosol paint. Larger machines might use a bucket that has hoses leading into a sprayer.

Most of these machines have wheels attached to them, so steering them is easy. Professional units are typically far easier to steer than any other. When it's necessary to do gradual curves or sharp turns, then the professional machines really stand out for providing great results. If your striping requirements or ada parking requirements in California involve more complicated tasks than straight lines, this might just be a deciding factor in picking out your equipment. Particularly useful can be a front wheel that you lock in for straight and radius lines alike. Just think of trying to do curved lines across a sports field or parking area when you don't have such an option.
These units also mean you can be sure that you get all of your stripes straight. When the front wheel is locked in, you're in no danger of weaving and wobbling across your asphalt jungle. This is critical to making your paint striping & re-striping parking lot in the parking lot come out professional looking. Without some type of machine in use, your lines just won't end up that straight. Can you imagine yourself attempting to find any straight-edge with enough length to guide a roller or brush without knocking it over or the wind blowing it out of place? Sure, you might come up with something, but once you do a few spaces, your straight-edge, whatever it is, will be covered with dripping paint that mars your parking lot surface each time you move it. Honestly, you're far better off just using the right equipment in the first place for DIY parking lot striping or letting a professional crew handle your parking lot's paint striping work for you. You can always contact certified access specialist California to inspect your property and get your parking lot striping done. Also checkout our Thermoplastic striping and road marking services.
Original Source: https://ada-striping.com/